Make 2013 the year you launch your big idea

You know that idea that you've been shelving for the past few months? Or that awesome idea that you had in the shower this morning? It's time to take the next steps with your ideas and announce it to the world this year. How? With Launch Effect, of course!


We made Launch Effect to give people a dead simple way to launch new things. With its no-fuss sharing capabilities, Launch Effect allows you to get people excited about your new venture and go viral.


To get you moving on the right track in 2013, we're giving away some cool prizes, including a Premium WordPress Theme bundle! Full details below.


To get a shot at winning, just tell us what your plans are for launching new things in 2013 and share the link with your friends. The top 3 with the highest referral rate win.


Remember: new year, new ideas, no regrets. Let's make great things happen this year!

Woah, cool idea. Now share your link with friends to improve your chances of winning the grand prize!
Dude, the contest ended already... the winners were Gregor (grand winner), Kyle (runner-up), and Chaz (runner-up). The contest ended on Jan. 31st and we announced the winners on Feb. 1. Follow us @LaunchEffect for updates and more contest news.
How to Enter
1) Fill out your e-mail address, name, and tell us what you plan on launching in 2013 using Launch Effect.
2) Share your link with friends*
*The winners will be determined by the number of people they refer. Basically, the people with the highest referral rate will win. So spread the word far and wide.
Contest ends January 31st, 2013.
Winners will be announced via Twitter (@LaunchEffect) on February 1st, 2013. Good luck!
The Prizes
- One lucky winner will win a WordPress theme bundle with Launch Effect Premium Unlimited and the much-anticipated DesignCub Portfolio Theme.
- The two runner-ups will receive 30% off Launch Effect Premium Single.
Both the grand winner and the runner-ups will walk away with a super soft Launch Effect t-shirt and a tattoo to match.
Sneak peek at what we're launching in 2013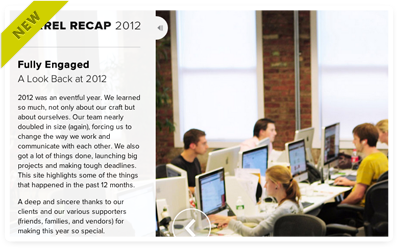 Next month, we're releasing a new WordPress theme called DesignCub Portfolio Theme—a premium theme for visual storytellers. It's for showcasing your work, photographs, or any big-picture story. At Barrel, the digital agency that brought you Launch Effect, we used DesignCub to make a recap site highlighting the happenings at our office last year:
 www.barrelny.com/recap/2012.