February 15,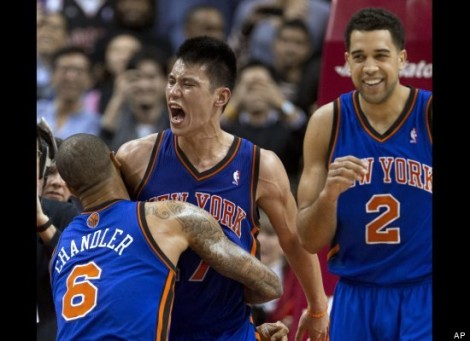 TORONTO — Even after his amazing week, this one took Linsanity to a whole new level. Against Toronto on Tuesday, it was Lin for the win!
Knicks sensation Jeremy Lin made a tiebreaking 3-pointer with less than a second to play to cap his finishing flurry of six straight points and New York rallied to beat the Raptors 90-87, extending its winning streak to six games.
"I'm just glad it went like this so we can calm the Linsanity down," cracked Knicks coach Mike D'Antoni.
No chance of that. The NBA's first American-Taiwanese player, Lin scored 27 points and added a career-high 11 assists in his first game since being named Eastern Conference player of the week.
"He continues to impress every night," New York's Jared Jeffries said. "Every game he plays better, he does more and more to help us win basketball games. You can't ask any more of a kid coming into this situation."
While he's the one standing in the spotlight, Lin said sharing success with his teammates is as big a reward.
"It's not because of me, it's because we're coming together as a team," Lin said. "We started making these steps earlier but we were still losing close games and so obviously it wasn't fun. But when you win, that solves a lot of problems. We've been winning and we've been playing together."
Making just his fifth career start, Lin had no hesitation in taking the decisive shot.
"I'm thankful that the coach and my teammates trust me with the ball at the end of the game," he said. "I like having it at the end of the game. I'm just very thankful."
via Huffington Post 
Comments