February 16, 2019
Here are a few photos of some famous faces enjoying the Knicks game.
February 16, 2019
NEW YORK (AP) — Jeremy Lin grabbed a spot on the bench next to Carmelo Anthony in the third quarter and shared a laugh with the injured All-Star.
"We were just having fun and kind of talking about how we're both excited for when he comes back," Lin said.
Hey 'Melo, no need to rush. Lin and the Knicks just keep on winning.
Lin put aside his record-setting scoring to hand out a career-best 13 assists, and New York got back to .500 with its seventh straight victory, 100-85 over the Sacramento Kings on Wednesday night.
February 15, 2019
This past Saturday night, a kid from Harvard named Jeremy Lin came off the bench and propelled the New York Knicks to a thrilling 99-92 victory over the Nets at Madison Square Garden. Two nights later, Lin made his first start in the National Basketball Association lighting up the court with 28 points and 8 assists in a win over the Utah Jazz. Wednesday night, Lin continued his monster week with an incredible performance against the Washington Wizards leading the Knicks with 23 points and 10 assists.

Lin is the NBA's first American-born player of Taiwanese or Chinese descent and only the fourth Asian-American in league history. Lin's parents, Shirley and Gie-Ming, who are engineers, emigrated from Taiwan to the United States in the 1970s. Lin's Asian roots are rare, and that is significant, considering that the NBA has been pushing its entry into both the Chinese and Taiwanese markets for years. A United States-born star with Asian ties could be a tremendous fit for NBA International and its corporate partners in Taiwan, Japan and China.

Lin's play for the Knicks so far has been nothing short of remarkable. In fact, it might be time to safely say that Jeremy Lin mania is out in full force on the streets of Manhattan. What Lin is about to realize, if he hasn't already, is that his success is much bigger the just his play on the court. From a marketing and endorsement standpoint Lin has a tremendous amount of potential.
February 15, 2019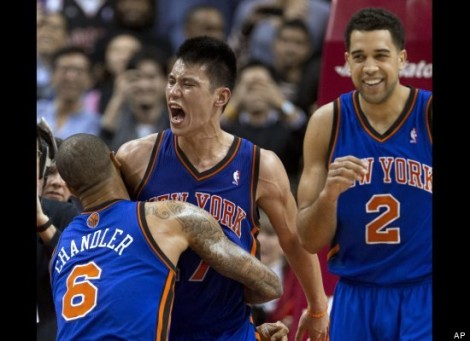 TORONTO — Even after his amazing week, this one took Linsanity to a whole new level. Against Toronto on Tuesday, it was Lin for the win!
Knicks sensation Jeremy Lin made a tiebreaking 3-pointer with less than a second to play to cap his finishing flurry of six straight points and New York rallied to beat the Raptors 90-87, extending its winning streak to six games.
"I'm just glad it went like this so we can calm the Linsanity down," cracked Knicks coach Mike D'Antoni.
No chance of that. The NBA's first American-Taiwanese player, Lin scored 27 points and added a career-high 11 assists in his first game since being named Eastern Conference player of the week.
"He continues to impress every night," New York's Jared Jeffries said. "Every game he plays better, he does more and more to help us win basketball games. You can't ask any more of a kid coming into this situation."
While he's the one standing in the spotlight, Lin said sharing success with his teammates is as big a reward.
"It's not because of me, it's because we're coming together as a team," Lin said. "We started making these steps earlier but we were still losing close games and so obviously it wasn't fun. But when you win, that solves a lot of problems. We've been winning and we've been playing together."
Making just his fifth career start, Lin had no hesitation in taking the decisive shot.
"I'm thankful that the coach and my teammates trust me with the ball at the end of the game," he said. "I like having it at the end of the game. I'm just very thankful."
via Huffington Post 
February 14, 2019
Jeremy Lin, the unlikely New York sensation, has 38 points and seven assists to outshine Kobe Bryant, who scores 34 but misses 18 of 29 shots as Lakers fall to 2-3 on their annual Grammy trip.
Reporting from New York — Stop the Lin-sanity? The Lakers tried and tried. And failed. Badly.
The New York Knicks rolled over the Lakers, embarrassed them, really, fielding a lineup that would be laughable if not for Jeremy Lin.
The Lakers weren't amused after Lin had 38 points and seven assists in the Knicks' 92-85 victory Friday at Madison Square Garden.
Kobe Bryant was seething after the game, kicking a trash can in the locker room before quietly stewing at his locker in the corner. Lakers Coach Mike Brown tore into the team, telling players they needed to compete much better than the alleged 48 minutes they'd just logged.
It was another head-scratcher for the Lakers (15-12) in a season already filled with them.