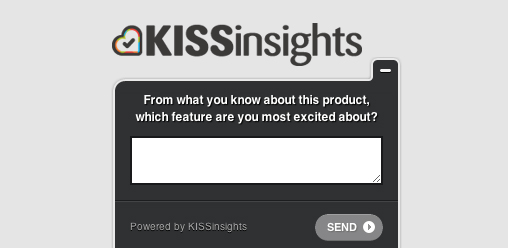 What other products would you like to see us offer? What do you think would be a fair price for this product?  Is there anything preventing you from signing up at this point?
These are questions we'd dream of asking site visitors before we launch our next big idea, right? With KISSinsights, now you can.
KISSinsights is a slick survey tool that lets you get candid, real-time feedback from customers and site visitors. Useful for getting insights into your customers' needs and catching potential marketing flubs on the spot, KISSinsights is a great widget to use with Launch Effect—especially if you're launching a new product or service. That's why we made installing KISSinsights on Launch Effect a real cinch.
First, go to KISSinsights and sign up for an account. KISSinsights offers 3 plans: Free (limited to 30 responses), Premium ($29/month), and Unlimited ($49/month). The latter two have more customization/management features and supports unlimited responses. For our international users, don't worry, KISSinsights is available in 13 different languages (and counting).
Once you get set up, select a survey. KISSinsights already comes with a list of basic questions ranging from "How can you help us improve this product?" to "Are you a fan of us on Facebook?" If you have a Premium account, you have the option of customizing your own survey questions.
After you choose a survey, you can customize the look and placement of the survey. Since the default display mode is set so that the survey slides up from the right side of your website,  we recommend you switch it to the left side so that the KISSinsights widget doesn't overlap with your right-side footer credits.
Once you've finished creating your survey, KISSinsights will generate a script code. Copy that code and go back to your Launch Effect dashboard.
In Launch Effect, navigate to Designer > Global Styles > Footer. Paste the KISSinsights code into the Additional Scripts (Closing Body) field and save your changes.
Note: Make sure you have the latest version of Launch Effect to activate the Additional Scripts field. You can grab it here.
Now go to your website and check out the sweet KISSinsights survey pop up, ready to take answers. Pretty cool, huh?
Using a cool third-party tool with Launch Effect? Share tips with us and other Launch Effect users here.