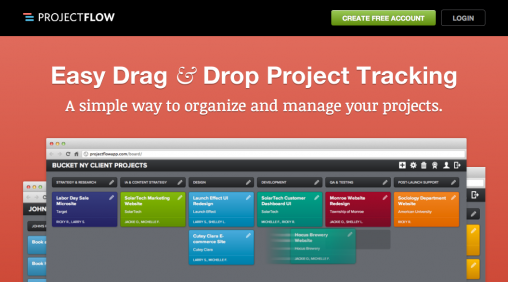 ProjectFlow is a new project tracking tool that helps you get a clear, big-picture view of all the things you're working on. It's the latest project from Barrel, the NY-based digital agency that brought you Launch Effect. We've been using ProjectFlow to organize and track new features, marketing initiatives, and performance tweaks for Launch Effect.
Here's a detailed look at the Launch Effect ProjectFlow board:
We divided the Columns into six phases: Ideas, Planning, Design, Development, Testing & QA, and Marketing.
For Block Content (the rectangular units on the board), we added "Project" and "People" and disabled the Second Level settings ("Client") since it wasn't applicable to our needs.
Note: You can opt for a tall view of your Board by resizing your browser window. This is optimal for tablets.
Since we're constantly getting new feature requests from our users, the Ideas Column is a nice bucket to keep track of the requests.
Once we're done with a project, we move it to the Success modal so that it gets archived.
Click on the image below to see a full-size view of our Board: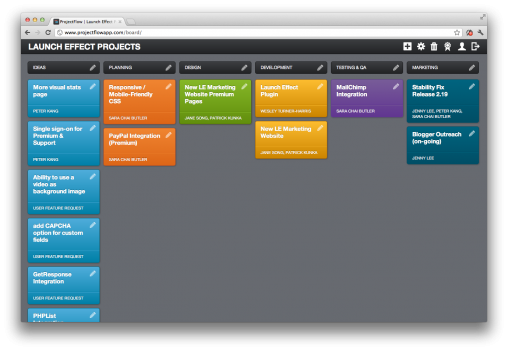 While it lacks the rich features of a Trello or Pivotal Tracker, we like the simplicity of ProjectFlow and love seeing the colors. We think it can be a very useful tool for web designers and developers who're juggling a number of projects and need to get that big-picture view to get a nice visual of their full workload.
Give ProjectFlow a try! Register for a create a free account at www.projectflowapp.com.