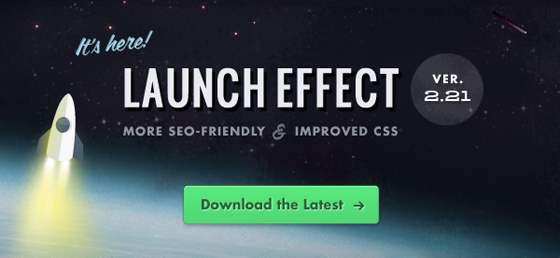 It's finally here! We're happy to introduce Launch Effect Version 2.21—the latest update of our theme with major enhancements to speed, stability, and SEO.

In a nutshell, we made some key robustness fixes, tweaks to the theme's responsive styling, and game-changing improvements to the way you can manage your site's meta data (pro tip: install Yoast's WordPress SEO Plugin). All these new changes are available on both Lite and Premium versions.
Please note that Launch Effect 2.21 is not yet optimized for WordPress version 3.5.
What's new in Launch Effect 2.21?
We've refined the way meta data is formed. Now, the meta description/Facebook Open Graph tags are generated in a reliable and dynamic way, and can be easily be disabled if you opt to integrate with a third-party SEO plugin like Yoast. (Huge thanks to LE users Matt, Jason, Trevor and Cameron for nudging us about this.)
We added a Custom CSS field and the ability to include and custom position WordPress Page editor content within the Sign-Up page
We also included Facebook App ID and Facebook Admins fields for open graph tags for those who wish to use Facebook Insights
How has Launch Effect improved?
For starters, we refactored our CSS and made it more dynamic (it's now cacheable) and added some elegant elements to go with the updated framework
We made the 404 Error Page content customizable (Premium)
Launch Effect's unique code data now gets passed directly to MailChimp upon sign up (bringing its functionality in line with the other integrations)
and much more! Check out the full string of improvements here.
Upgrading to 2.21 is a simple and painless process. Just deactivate and then delete the current version of Launch Effect you have installed. From there, just upload, install, and activate 2.21. That's it. More details here.
If you run into any issues or have any questions, reach us at our support forum. Again, click here to download the latest.