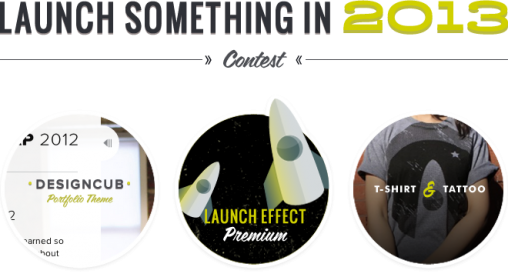 To get you moving on the right track in 2013, we're giving away some cool prizes, including a Premium WordPress Theme bundle with Launch Effect Premium and DesignCub Portfolio Theme—a forthcoming theme for visual storytellers.

To enter, follow these three simple steps (takes 2 min, tops!):
Fill out the form and tell us what your launch plans are for 2013
Share the link with your friends. The top 3 with the highest referral rate win!

Good luck, everyone! Remember: new year, new ideas, no regrets. Let's make great things happen this year!

Again, it's http://contest.launcheffectapp.com (made with Launch Effect Premium).